December 1st, 2010 | by: Bc Osunneye |

View Comments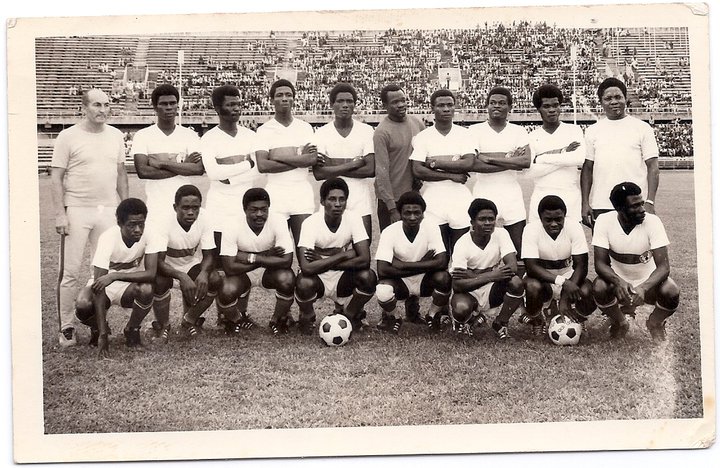 As we all know Samson Siasia has been employed to lead the Super Eagles for the next 4 years. We have to support him by assisting him in all ramifications.
I however want to write on the best 11 players that ever donned the national colors from the time of the Red Devils to the Green Eagles and now the Super Eagles.
'Mathematical' Segun Odegbami wrote on his best 50 Nigerian footballers to commemorate our 50th year independence anniversary and who else is in a position to do justice to that if not him. He is aged over 50, played football in this country spanning almost 2 decades and has remained in the business side of football till date.
So i want to attempt choosing the best eleven in 50 years. This of course is now from the 'eye' of a fan although i play some 'little' football. From someone who has been going to the different football arenas from the early 70s. I may have to pass the 'Thunder Balogun Era' but I actually remember watching CMS Grammar School squaring up with Maryland Comprehensive at King George the 5th Stadium, now Onikan Stadium. Saw the All African games although in faint memory now but luckily most of the stars then like Haruna Ilerika continued a bit longer.
Having watched Oyo state FA match with IICC losing 1-2 to Water Corporation at the Olubadan Stadium and a host of other cracking club games involving the teams of Leventis/Abiola/Raccah Rovers/Ayisalami Rocks/Shooting/Bendel Insurance/NNB/Rangers and Abiola Babes, mostly live and sometimes on TV. We used to travel to watch league games.
At the National team level, going to the Stadium was not any different. It was always exciting as it was safe even if we never qualified for the world cup. Lagos State Principal's cup was however paramount between 1975 and 1985 for me, we always had the privilege of State box seats even at games that were not ordinarily our school playing. In the later years after the local league practically collapsed, we turned to watching almost only the Super Eagles.
So here is my best eleven to commemorate our first 50 years after independence. For the benefit of young readers I will liken older characters to current international footballers to aid description of talent.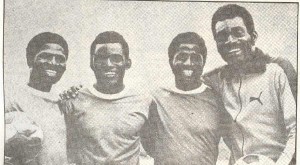 Goal Keeper: This is a position that Nigeria has hardly ever lacked top quality. From the days of Joe Erico , Emmanuel Okala, Best Ogedengbe to the days of Peter 'Dodo Mayana' Rufai, Willy Agbonibare, Ike Shorunmu and now Enyeama, Nigeria has been endowed with at least above average performers or outright world class goal Keepers. However 3 keepers stand out, Emmanuel Okala, Best Ogedengbe and Peter Rufai. For Best Ogendengbe, he came at a time that Okala was in his full strides too, the competition was hot. I can remember the IICC/Rangers rivalry where this head to head often ended in a scoreless draw due to a large extent, the heroics of these keepers. The CAF champion's league semi-finals match up played in Kaduna comes to mind.
Emmanuel Okala was a shot stopper, almost as tall as the bar, calm and with his height a lot of opposing players thought he could not stop 'grass cutting' shots but we always marveled at his reflexes in going down swiftly. He won many games almost single handedly; he was a Van der Sar. A kind of keeper that would always give you points during a season. He kept both his club Rangers and the national team "Green" Eagles alive in many games. Would he have made European top flight soccer today? A big Yes! Okala would have kept for the best teams in the world.
Best Ogendengbe I remember was a trojan in one on one situations, he was quick out of his line closing several strikers down swiftly. He loved to dive, making a lot of spectacular saves. If it were present day he would probably have played conveniently in Spain, Belgium or a team like Fulham, Blackburn, Villa and be their Braid Friedel.
Peter 'Dodo Mayana' Rufaia courageous goal keeper, at his prime was a world class beater himself. Although he was sometimes unpredictable in terms of performance and showed a bit of weakness to crosses, he had his moments, gave his defense a lot of confidence and one of our few goal keepers who could turn defense into attack swiftly.
Enyeama needs a few more performances like he showed against Argentina at the world cup before we can even start to mention him.
Verdict: Emmanuel Okala
Left Back: This is a position that we have not been exactly world class but we can pass with a few above average talents in the likes of Bright Omokaro, Samuel Ojebode and Benedict Iroha.
Ten! Ten! As he was called, Bright was a strong unpolished left back, was not exactly a wing back but could be relied upon most often than not. He was a strong character and operated in the defense with the Big boss so was always on his toes. All Bright needed was some bit of finesse and he would have conquered the world.
Samuel Ojebode was a totally different kind of full back in comparison with Bright. He was a gentle player who loved to overlap. Not as hard and strong but was an intelligent player who am sure was always a coach's delight, playing to instructions. Sam would have played professional soccer at the Belgium/France level if it were today
Ben Iroha, was injury prone and I think would probably have been my choice if not for this. He was an excellent reader of the ball, covered the entire left side of the pitch and was never in the habit of not recovering well unlike our present day left full back. Ben had some dribbles up his sleeves and I can remember his goal at the Nations cup in Tunisia 1994.
Verdict: Tricky but I pick Bright Omokaro.
Right Back: Only 2 players come to mind here Yisa Sofoluwe 'Otobo', & Patrick Ekeji. Yes, the same Director of sports at the Ministry. He was a wing back but had more defensive capabilities than his attacking side of play. I would not say he would have played top flight soccer but he would have survived in Belgium and France.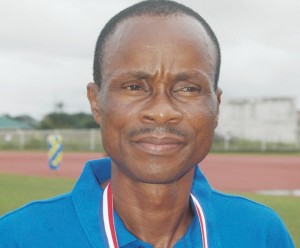 For Yisa Sofoluwe, he was one of the most comfortable defenders when with the ball that ever played for us. He showed what overlapping was all about. Very smooth and technical player was not the usual strong and dreaded average defender we almost always paraded. Having a highly technical player was rare in those days hence our susceptibility to North African teams. He had skills and showed his skills at the slightest opportunity. We can liken him to a Cafu, yes! Don't be surprised, he was that good, he was raw and never received any excellent tutelage so imagine if he were trained at Ac Milan or Barcelona.
Verdict: Yisa Sofoluwe
Central defense:
We are getting there. Here I would not split to right or left but pick our best two out of an array of excellent central defenders. Here are my top 5:
'Chairman" Christian Chukwu, Stephen 'Big Boss' Okechukwu Keshi,
Uche 'Gentle Giant' Okechukwu, Taribo West and Sunday Eboigbe.
Chidi Nwanu could have been part of this but he never played for long with the national team.
CCC was a calm defender, intelligent and comfortable with the ball. He was ' Enugu Rangers' a pure breed leader, very unassuming and strong mentally. He carried the team on his shoulders and never fretted. Chukwu had two short comings for me, his height for a central defender and his speed. He was not exactly a quick defender but he compensated for it with his ability to read play and intercept passes a lot. That was his trade mark. Later in his days he developed an ability to play free kicks, scoring a few goals with it. I am not sure he would have survived present day football for his speed but I guess his reflexes would have been sharpened and at a young age he would have been excellent then.
Taribo West: A host of us know the never say die attitude of this man. He never feared going into any tackle and at his prime was always present in play. He played at the topmost level ever in Italy and France. A very crude player before leaving our shores but was transformed at Auxerre. Though he looked heavy he was quick and a tight marker.
Uche Okechukwu perhaps can be referred to as the most intelligent defender ever to done our Green White Green colours. He was privileged to have played alongside Keshi, Nwanu and Taribo. I wonder why he is not in coaching right now as his major skill was the ability to understand play, call his line, and know basic technicalities most of our present day players don't. Things like , when to play the ball for a corner or a throw in, like generally blasting ball out or keeping it to calm play. He was a master in defensive control as was evident, very easy to play with. Whoever played alongside him became a good player. Although he spent most of his time in Turkey and Denmark, I think if it were present day, he would make a very top side in Spain or Italy, notice I did not say England as he was not exactly a quick player.
Sunday Eboigbe: This guy was as hard as anything that can cross your mind. Sunday enjoyed most of his career pairing Keshi. They were so good that you would wonder how Nigeria did not make the world cup or win the Nations cup consecutively. I will highlight the reasons later on this. To quote Odegbami 'One needed a protection helmet to enter Nigeria's defense at that time….. ' Sunday, tall and athletic, was not exactly refined as he caused a couple of unwanted set pieces against us but he was a fearless defender. Opposition always looked at entering the Nigerian defense via the flanks where we had a bit of inconsistency. You can compare him to a present day Vidic before he was refined at United, or a Thuram playing central defense..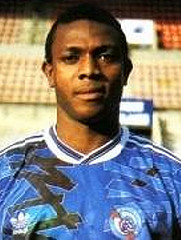 Now to the big boss himself, Stephen Okechukwu Keshi, who led all the defenses he lined up in from Nigeria through Abidjan to Anderlecht all the way to France. He was a CCC incarnate with extra qualities. Where CCC was not exactly quick, he was faster, where CCC was comfortable with the ball, he was a world class libero. Where CCC is not exactly tall, he was tall. Between 88 and 92 he was so much respected in African football that he would regularly carry the ball right from his keeper up to the center circle. It was as if players were afraid to go near him because of his presence. The Nations cup match against Zaire in 1992 comes to mind. He was a powerful defender, another master of defensive play. Born to call and hold lines, he packed some fierce shots in his legs that made him score quite a number of goals in his career. It is a shame we don't have records at our finger tips but I dare say he scored more goals than most of our strikers in his entire career. He also added long throw to his arsenal like Delap. Today he would have marshaled just about any defense, am sure Wvenger would have been happy having such a leader in his present day 'chicken hearted' team lol (sorry i just had to find a way of bringing out the United in me…lol). We can liken him to a Franco Barresi, Rio Ferdinand, or an Allensandro Nesta . He was so strong mentally that you would have thought he was an Italian or a German footballer. He never gave up.
Verdict: Stephen Keshi and Uche Okechukwu
Midfield: This is the department that let Nigeria down the most for many years. To onlookers, we had an array of excellent midfielders but to any keen observer, we had an inconsistent midfield. Our midfielders were always learning how to play together. Before a set of players gel, they are switched or they go Awol. In the 70s we never had a world class midfield until the later part when Iwelumo, Muda lawal and Aloysius Atuegbu ran things. Before we knew it, after the failed attempt in 1978 world cup Iwelumo disappeared. We always relied on our wing play and our defense including the goalkeeper. By the time we won the nations cup on our soil we were not doing badly but the team needed a new life. Hence the emergency of what could have really been our 'golden' generation as we had arguably the most gifted midfielders ever in Paul Okoku, Segun Olukanmi and Chibuzo Ehilegbu. They were sublime and skillful players. They came at a time Sylvanus Quick Silver' Okpala was at his peak and Muda lawal was still fighting on but you know what? The trio slipped through the hands of the FA then and went to school in America. This singular move by our best (brain drain I call it) wrecked the days of the best defensive set up ever in Sofoluwa, Keshi , Eboigbe and Omakaro. Imagine if these guys had played on for 4-6 more years.
Then we had to keep changing boys in the middle, we had so many players in this area that none really stood out except the talented Henry Nwosu. Later we had Sam Okparaji, Friday Ekpo, and hard workers like Ademola Adesina, Moses Kpakor and the rest but they were never world class players. We always struggled against technically gifted sides. Etim Essin showed promise in the later part and that was it, showed promise.
So my best midfielders are Muda Lawal, Sunday Oliseh, 'Jay jay' Okocha and Mutiu Adepoju.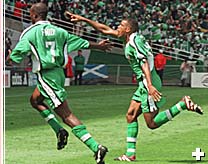 It is not a coincidence to have only Muda Lawal from the 'old' era in the mix. He was a gift to Nigerian soccer. He could win balls and could distribute as well. He was a tireless player such in the mold of a Xavi. I have tried to look at other players but Xavi seems to be the best to compare him with. He was a box to box player who would have excelled at United, Arsenal, Chelsea, Barcelona, just name it. The only part of his game that was lacking was goals scoring. He was not exactly gifted in that area. Also he was not that technical but that can be due to lack of exposure, I can't imagine if he was playing abroad. He would have been in the world's best 3 midfielders. Yes, am that bold, he was that good as a raw talent. How come he never won African footballer of the year award? Politics my people or how would you explain Segun Odegbami and Jay jay's cases. Or maybe because it is difficult for midfielders and defenders to be given the award, as strikers are always first choice.
Sunday Ogochukwu Oliseh: can anyone forget this guy? His ballistic missile against Zubezaretta in the 3-2 defeat of Spain at the 1998 world cup? No way. Sunday was the 'eye' of his set. He could read play miles away and he had the knack for swift counter attack play. Oliseh is still one of our best tackler and passers of the ball in the midfield; he was a work horse too with unending movement. For once during his time, the usual strength of our defense became noticed as he was an ever present screen for his last line. Yes we can say Oliseh thrived more whenever Mutiu was on the pitch because at such times his forward looking plays came to fore. Mutiu was there to support so Oliseh could afford long balls and random incursions deep in play. A very strong and solid player, who loved to control play and split defenses with sharp passes. Another of his heroics was the Nations Cup semi finals when he was ill but had to come on against Senegal as we were trailing and turned the game around, supplying Aghahowa those crisp balls that changed play.
It is no surprise that this son of Nigeria enjoyed football at the highest level playing in Belgium, Netherlands, Italy and Germany.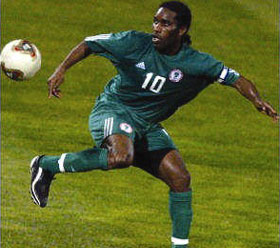 Jay Jay Okocha: do I need to describe him to anyone, except you are younger than 8 years. This guy is arguably the most skilled footballer in Nigeria living today. They say in Germany 'he was so good they named him twice' Jay Jay. Jay Jay came into the national side right from nowhere. He was not known to have played local football and was not nationally recognized until 1993. This man that has his special way of going pass opposing players never really played for the biggest clubs because to me his play was sometimes contrary to expected flow of the game. He never had the speed to dribble on the run like a Messi but was a master of one on one situation. You can bet your life he would excel in such moments. I think you cannot have it all as this guy is the nearest to a genius in soccer.
He would have been like the present day Iniesta who is difficult to wrestle off the ball, quick footed with deceptive play and very direct. However Jay Jay's play lacked that urgency required almost throughout his career. He probably would still have been worshiped if he were South American
Mutiu Adepoju is like a protegee of Muda Lawal. He possessed almost all the qualities of Muda but with fewer skills. He never had that 'fake' dribble but was a master of space on the field of play. He is another player that you would normally feel should excel as a coach like Keshi, Uche and Oliseh. Mutiu 'headmaster' as he was named scored many key goals in his prime. He can be compared to a Paul Scholes as he knew when to arrive in the box but was not a bad tackler like Paul. He could stand alone in the middle or double up like in matches with Oliseh.
Verdict: Jay Jay, Muda Lawal and Sunday Oliseh
Wing
I had to include this separately instead of lumping them with the midfield because our soccer history would not be complete if we don't mention in their own rights top class wingers that have been paraded at the national level. Kunle Awesu, Haruna Ilerika, Sam Opodu, Clement Temile, Friday Elaho, Finidi George, Segun Odegabmi, Emmanuel Amunike, Felix Owolabi, Adokie Amesimaka were all great players in their own rights.
However, I will only speak on probables in Finidi George, Emmanuel Amuneke, Adokie Amesimaka and Segun Odegbami.
Emmanuel Amunike: Some players when they receive the ball the first thing on their mind is either to control and distribute or to dribble. For Amunike his play was forever forward looking, let's go and score, that is it. He had a very strong left foot and was a quick player until his injury. He was a very direct player but still accused by some to have denied Rashidi a lot of balls during the 94 world cup.
Adokie Amesimaka, came before his time if there is anything like that. He was a slick player. 'Chief Justice' (as he was called by the great Radio commentator, Ernest Okonkwo) had the dribbles of a Ryan Giggs, had the speed and the intelligence to go pass most right backs in his days. You wonder with all these praises how and why we were not over running African teams, but I have given a major reason above. He would have survived top class football today.
Finidi George: declared arguably the best 'crosser' of the ball in 1997/98 season in Europe. Finidi, I know him as 'Mr. Precision' he would pull balls to exact place he wants it. He was a highly technical player who later developed some dribbling skills while in Spain for Real Betis.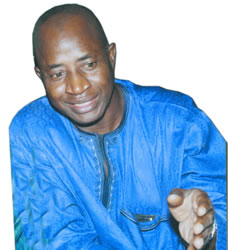 Segun 'Mathematical' Odegbami: the only player I have seen who did what Messi is doing today on the touch line. He could play at impossible angles and still have the ball. He was so gifted that he sometimes makes a dash down the right flank on a straight line, cuts in right on the line by the corner flag and dribble towards the upright before either scoring or 'squaring'. His presence in a side gave confidence that even when injured he would be fielded (I stand to be corrected on this, for IICC a number of times). He was just an impossible player to leave out unless he was bed ridden. At least he or Okala should have won Africa's best player sometime, maybe 1980. He could double as a striker and sometimes played deep from the right side of the midfield.
If I were to award the best 3 dribblers ever in Nigeria I would give Segun Odegbami, Jay Jay and Sam Opodu.
A today's 30M pounds player, he honestly would have been in the mould of a Messi, Ronaldo or a right legged Gareth Bale. He was a deft goal scorer for both country and club. Better than the likes of Nani, Valencia, or Lennon etc. The only snag here is that could you say the opposition was weak?
He definitely came before his time like Muda and Adokie.
Verdict: Segun Odegbami
Forward/Support Striker:
This is the second area that contributed to our sloppiness despite some exceptional talents in other departments of the game. We just lacked goal scorers in the 70s and 80s that necessitated our using so many strikers that I can't even remember most of them. Nwadioha, Oyarekhua, Osigwe, Ozogula, are some of the names that were make shifts in the center for us. Rashidi Yekini, Richard Owobokiri, Thompson Osiyen, Yakubu Aiyegbeni are all players that donned the number 9 position at sometime or the other.
Thompson Osiyen: a fox in the box as they would describe a Micheal Owen or a Rudd V N, Thompson left us after the disastrous 1978 world cup campaign. Just like Godwin Odiye, a skillful defender who loved wearing a head band. He Osiyen, left for the states thereafter and never really gave us the opportunity to assess him with the greats. He was later to have succeeded exceedingly in the US colleague football.
Kanu 'the King' Nwankwo: you do not call someone a King for nothing, he must have shown leadership qualities in his strength, courage and ability to stand out and deliver when it matters the most. This guy is the most intelligent midfielder cum support striker ever in Nigeria. Like Jay Jay, he lacked speed but compensated for it with his sublime dribbles and ability to slip away from defenders. He was a very direct player, always thinking of getting into the box, very deceptive and highly calculative with precision play when in his prime. A huge plus for him is the ability to comeback after the heart surgery and the fact that he currently remains the most visible player ever for this country. For me two instances stand out in his career, the final goal against Brasil at the Olympics and the two goals for Arsenal against Chelsea. Hail the King, Kanu!
Richard Owobokiri: a scoring machine who played professional soccer in Brazil and Portugal. He came about the time of Rashidi and was never really given much opportunity to excel.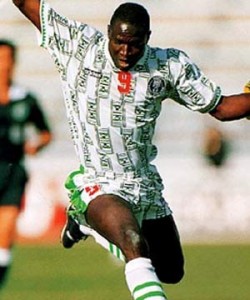 'Gangling' Rashidi stands out so much that it is strange that we have not produced anyone near his status as the best striker ever for Nigeria. He was a raw player for Shooting till he left for Abidjan where his ball control and movement were worked on. He became a top player no sooner and got transferred to Portugal. At some stage, playing a team with Rashidi was like starting the game 0-1 down. He was a guarantee to score at least a goal. He was an all-rounder, comfortable in the box and could shoot from outside.
Other support strikers we can look at are Daniel 'the Bull' Amokachie and Samson Siasia great players in their own way but are never going to make my all time list.
Verdict: Rashidi Yekini and Kanu Nwankwo
My 1st Eleven
Emmanuel Okala
Yisa Sofoluwe
Bright Omokaro
Sunday Oliseh
Stephen Keshi
Uche Okechukwu
Segun Odegbami
Muda Lawal
Rashidi Yekini
Jay Jay
Kanu Nwankwo
4-2-3-1

Create your ultimate
Fantasy Premier League
team and play the
Fantasy Football
game from The Sun