New Manager for Nigeria's Super Eagles: Siasia or Keshi
November 4th, 2010 | by: Bc Osunneye |

Comments Off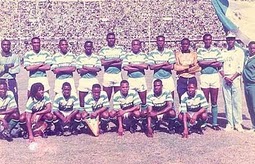 Stephen Okechukwu Keshi or Samson Siasia, one of these men will become the next Manager of our darling Super Eagles any moment from now. They are both past internationals and excellent ones for that matter. I am so excited that finally we are getting a chance of having one of the best of Nigerian coaches and giving them the opportunity to deliver at the highest level. This is victory for advocates of local coaches
If you have been following my blog you will notice I have never been given for a foreign manager mainly a non.African, as I always believe when it comes to a Committee of Nations, when it comes to REPRESENTING a nation, it should just be an indigene first or at most somebody near your culture or who has lived amongst you for a certain number of years, like in most nations 10years to become eligible. I find it absurd looking at the bench of a country's national side and seeing someone with obviously a different culture altogether. This is a contest of nations against nations.

Of course I support the idea of Technical advisers, whose duties would be off the field training, managing and developing our coaches. I support club sides deploying anybody be it from far away Australia. But for a national side, wear, national colors it just should not be temporary. How can you come and wear our colors for 3 weeks and say you are representing us?
So I am very excited and do not really care too much about who is chosen out of the two of them. I believe it is a matter of time and both of them will have a chance eventually. Whoever gets the nod now will be given a four (4) year contract. That's wonderful to hear because we all have been advocating for continuity. I know the chaps in there would have a clause whereby they can sack or let go once performance targets are not fulfilled.
Here is an attempt at grading them both on 7 criteria, with a maximum of 10 marks each.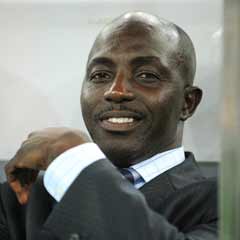 1. Qualification: Samson Siasia we understand is still doing his Grade B license (stand to be corrected) but has a grade C license which is a license for coaching under age players while Keshi has a Grade A license hence his ability to get International Jobs. I have searched for more information on Siasia's to disprove this all to no avail. But the people that matter in employing would have the credentials of both of them. Is this important? Yes I think so. I believe some of us have the raw knowledge of tactics and techniques in football but need to have a professional Stamp to show we are Certified to practice. I can't imagine a staff of an organisation being made the MD without proper certification or at least certain required training. That is why you see regulatory bodies have standards for who can be a CEO of a public institution eg CBN on Bank MDs. For private companies anyone can be MD. Now, this is football where natural talents can be a huge plus too.
Verdict: Siasia 6 Keshi 10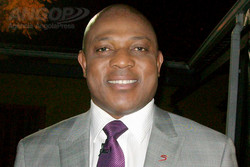 2.Experience as a Player: We all knew the 'Big Boss' as a Manager in the making. He was the pride of a lot of managers because of his tactical awareness on the pitch, always talking and speaking to his team mates, controlling play. A born leader who was almost always made a captain in all the teams he played in from his elementary days in Ebutte Metta to when he was made captain of the great generation at St Finbarrs College Akoka in his 4th form after the midfield maestro Emeka James had left the school. A team of the excellent Henry Nwosu (who I call forerunner of Okocha) tricky Wakilu Oyenuga, quick footed Patrick Obitor, Sam Owoh, Obey Reggae, Ahmed etc. At ACB he was captain in the team that had Uche Okafor & co, later on New Nigerian bank where he marshaled one of the best defenses any Nigerian team ever had. A team with the likes of Sunday Eboigbe & Bright Omakaro. He then moved to Abidjan, Stade first and later led at African Sports. Stephen Okechukwu practically paved the way for Nigeria footballers playing abroad most especially in Belgium sometimes housing as high as 9 players at once. His professional football highlights were at Anderlecht & Lokeren in Belgium and Strasbourg of France where he became arguably the first African to lead a French first division side as Captain.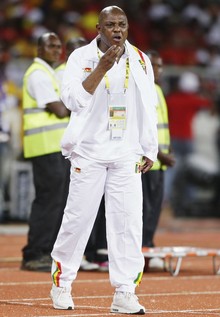 For Samson Siasia, a technically gifted player, he was a noticed talent from Secondary school as well and you know where? Same St Finbarrs College Akoka, few years after Keshi's set. I can remember watching him at the Old UAC stadium (now Teslim Balogun) and thinking what an exciting player, very deceptive in play and always wished he came to my school instead, the great C.M.S 'Bariga Bombers' that is (lol). Siasia played at Lokeren, Belgium too and later at Nantes France where he won the French League.
My most exciting moment for Siasia is his goal against Argentina, pure class. Only thinking players score such.
Verdict: Siasia 7 Keshi 9
3. Experience as a Coach:
Samson Siasia has taken our Under 20 to the world cup finals twice and had his best moments in 2005 finals against the great Messi. He again faced his foe at the Olympic Games finals 3 years after. He was the manager too at the Under 20 to the African Youth Championship tournament and of recent Club champions League with Heartland of Owerri. Siasia having excellent records at Under age football has never been saddled to direct affairs at the senior national level although he had a brief stint working as Eguaveon's assistant. I have a little problem with youth tournaments because I think a lot of the players falsify their ages so we can really not get the true reflection of a coaches prowess at this level in Nigeria.
In Keshi we have someone who as Amodu's assistant qualified us for the 2002 world cup but they were sacked. He later moved on to get a job outside Nigeria in the mold of the 1994 ban that prompted him moving to Abidjan. A closed door always produces a new opportunity. He qualified Togo for the world cup 2006 when Nigeria did not qualify; this was very annoying to me then. After being sacked there, he got another job with a higher profile team in Mali.
Verdict: Siasia 7 Keshi 9
4. Discipline & Control: Stephen Keshi is the epitome of discipline as a player. He had his fare share of controversies but mostly were in putting his stand and those of his players across to authorities locally. If you are not disciplined you will not be recognized as a leader everywhere you go, from Nigeria to Cote D Voire to Europe. And as a manager he is an outspoken 'boss' in fact a negative one for most people, that he tries to 'impose' his decisions any where he finds himself. For past NFA he was said to have been 'rude' but you know who our people are. Would a player throw any tantrum with him in control? Yes they can but they won't play. He would keep anyone playing for him under check.
Siasia too has shown himself highly disciplined, these guys would not have survived in Europe without being disciplined. He was a player that hardly bothered about issues apart from playing soccer except his little 'disciplinary' snag with Westerhof that prompted his being dropped for the game against Italy 1994. And this was very annoying to me, one of the crimes I held against Westerhof as he did not dress Siasia for that game and it cost us dearly. A huge plus for Siasia is the way he handled the Mikel Obi Olympics snub, this shows he is a manager that will move on no matter the player whose ox is gored.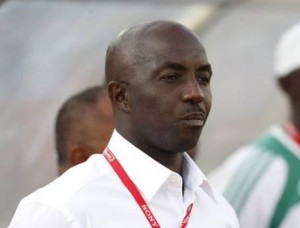 Verdict Siasia 7 Keshi 8
5. Tactical Awareness: Keshi as a player seemed to have a natural knack for tactics. He was an eye of the coach on the pitch. I can remember that his hand stretching and finger pointing, shouting, calling of line and his libero play throughout his career. There was no team he played for that the defensive line did not become fearsome.
As a manager, for qualifying a Togolese side for the world cup, putting them together and with defensive discipline, he has shown he knows what it takes. With Mali he had so many off the pitch issues that it is hard to judge him on the technical display. We have also listened to his analysis a couple of times on DSTV, during the world cup that it prompted one of the hosts to ask why he was sitting there, knowing what to do and another man, a Swede was in charge of affairs.
Samson Siasia definitely being a technical & intelligent player in his days has an understanding of how to maneuver on the pitch of play. He may not have the same discipline in the balance and control of play from the rear like Keshi but he makes up for it in his direct attacking approach all his teams employ. They always show flair, a natural ingredient of Nigerian players that some unworthy coaches have been covering. An issue for me (we skip Heartland 'cos of so many off the field challenges) is when he refused to make a change for over 7/8mins in the match against Germany after one of his players was injured. Germany was playing with 9 men then and he balanced play by 'voluntarily' playing with 9 men too until Germany equalized before he made the change. I hope they ask him this question at the interview..
On the other hand, you cannot be naive and qualify for 2 major world competition finals within 3 years. You must have some stuff.
Verdict: Siasia 7 Keshi 7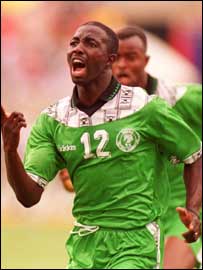 6. Fans Support:
There is hardly a contest between the two of them here as it seems the younger generation wants Siasia and they are the most vocal. Mostly those who did not witness Keshi play and think he is somebody who lives in the US and just wants to come and take over here. They definitely know Siasia more due to the Under 20 achievements. For older people I have heard a couple prefer Keshi, saying under age football is different.
Verdict: Siasia 10 Keshi 4
7. Risk:
There are unproven accusations against the two of them on being bias to the players they take to. Keshi is regarded to have started the 'Mafia" in the Super Eagles. These were his 'boys', group he always came into Eagles with. He was such an influence that he led a generation of players hence being the longest serving captain of the Super Eagles. According to critics, this clique became detrimental to the team in the last few years of Rashidi Yekini. The likes of Ben Iroha, Uche Okafor, Eguaveon, Uche Okechukwu, Emmanuel Amunike, Daniel Amokachie to mention a few, were said to belong to the Big boss's 'Mafia' at one time or the other. As a manager this strikes me as someone who would be in absolute control of his team and rebuff any interference or else would resign as seen in the case of Mali. A negative from this can be that some certain players do not get into the team once they do not support his ideals. However Sunday Oliseh shed more light on this recently, saying the issue is that once it's a team, it is all about leadership, friendships and natural bonding, nothing more. Ultimately set for the collective good of a course.
Siaisa has all sorts of behind the scenes allegations too on how he picks players and how some certain players will always make his team at the detriment of others. Boys like Isaac Promise and Solomon Okoronkwo as an example. To me these are unfounded as every coach has his favorites, you had better get used to that. 'Favorites' in the sense that they understand and play according to instructions. So a manager has lesser headaches. The only risk I see with choosing him is lack of experience at the national team level as we cannot categorically say that 'Siasia has qualified a team for the World Cup before'. Still, Siasia is of a lesser risk in this case.
Verdict Siasia 8 Keshi 7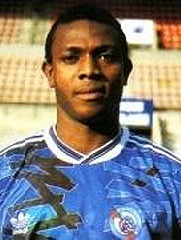 Total: Siasia 52, Keshi 54
Summary: In conducting an interview, some certain qualities carry more significance than the others, in respect to the job in question. For me, Experience is number 1 (hence its carrying 20 marks here).
Keshi comes out tops mainly because of his Certification, Qualification of Nigeria & Togo for the World Cup and lastly his on & off the field prowess of being a leader. He would be the boss of his players not the other way round and NFF would know their bounds. Siasia will not be a bad choice at all. He is a younger person and looks more in tune with the next generation of players. He too would not take nonsense from his players and would deliver. They both will develop players if given the 4 year contract spoken off.
I think it is exciting times for football followers in Nigeria as we can now celebrate our own. They are both top choices in our football today so any would do for me. We can argue back and forth but I think you can look at the criteria and make the analysis yourself.
The WINNER is Nigerian football
Subscribe

Nigeria World Cup Team Blog RSS Feed

Share
Comments are closed